New Here?
Welcome to St.
John's UCC!
We're glad you're here. We hope you find our church a welcoming place where you can get to know us and experience the joy of Jesus Christ together with us.
Christian Education and Spritual Discipline
Classes Available for All Ages
Mission and Service:
Ministry to the homeless through housing and feeding Support of missions local, national and international
Fellowship opportunities include:
Refreshments and Fellowship – after worship on Sundays
The Fellowship monthly luncheon program
Annual German Dinner
St. John's Players
Small group gatherings
Annual Church Picnic
Mission Statement
St. John's is a community of faith centered in Jesus Christ, seeking guidance and direction through the Holy Spirit, and demonstrating God's love to all people in words and deeds.
Open and Affirming Statement
"…that they all may be one." - John 17:21
As a community of faith led by God's love, Christ's example and the Holy Spirit's presence, we the congregation of St. John's United Church of Christ of Richmond, Virginia declare ourselves to be Open and Affirming. Recognizing that people desire to bring their whole selves to the church, this congregation offers extravagant welcome and hospitality to everyone, as we strive to embrace, without limits, differences in age; education; faith journey; family structure; gender; marital status; mental and physical health and ability; racial and cultural identity and background; sexual orientation, gender identity, gender expression; and socioeconomic circumstance. With God's grace, we invite all into the full life and ministry of the church including worship,sacraments, rites,responsibilities, and leadership, as we celebrate the blessings, joys and challenges of life in Christ.
More Information? call: (804)-358-9291 ext. 11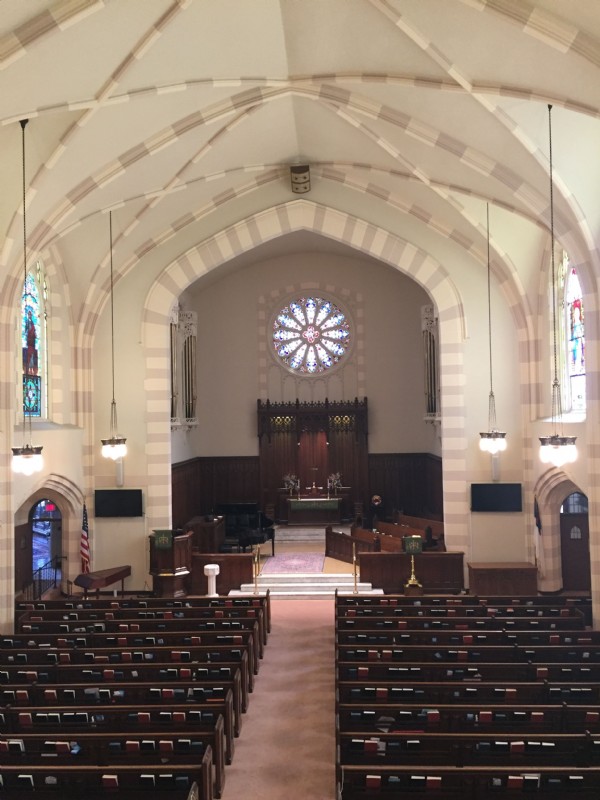 Location & Parking
We are located at the corner of Franklin St-Monument Ave and Lombardy Street in Richmond's Historic Fan District.
503 Stuart Circle
Richmond, VA 23220
Parking is permitted in the spots marked "CH" reserved for St. John's along the alley off Lombardy Street just north of the church as well as inside the apartment building parking garage. Sunday parking is also permitted along the Monument Avenue median strip.